"90 Years in graphic arts & Awards, 70 years of business, 20 Years of canines at work"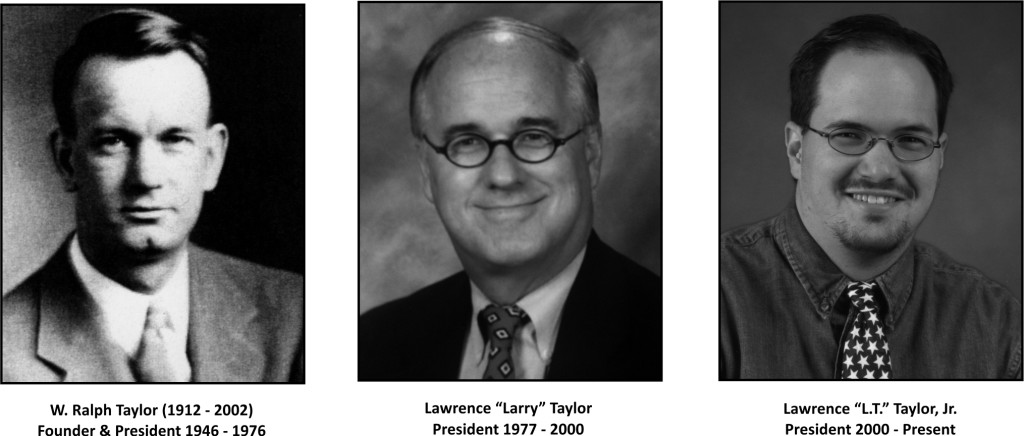 The founder W. Ralph Taylor started setting type at age 12 (1924) at the Brook Reporter newspaper in Brooke Indiana,  and since then the family has always been into some aspect of the graphic arts for the seven decades since!  Although the father, son, and now grandson occasionally ventured away to try new things and work on other projects, the businesses have always had a Taylor at the helm.
In 1995 we began introducing the family dogs to the workplace where they remain a welcoming tradition: Golden Retriever, Max, (5) serves as vice-president for visitor relations, following in the paw steps of the original Golden Retriever Bailey (1995-2004), and Golden Retriever Karlie (2004-2012). Another Max (Boxer-Basenji mix, age 12) serves as a supplemental dog greeter, and the newest staffer McAffee "Mac" (Boston Terrier, age 5 mos.) is the intern-in-training who may survive to permanent status if he stops getting on the big Maxes last nerves!
Ralph Taylor (1912-2002), the founder, was a printer, photographer, inventor, and pioneer in offset printing andl in applying industrial materials and processes to consumer products (photo-sensitized aluminum and laser engraving).  He remained active in the businesses until his health challenges forced retirement to Florida at age 86. He loved being creative, and was generous and enthusiastic about the possibilities for business and life and improved relationships with all—a great example to follow!
Larry Taylor started 'working' with his father from age 5 beginning making scratch pads and learning how to operate a Linotype and hand-set type. By age twelve his main job was typesetting and proof-reading for yearbooks along with photo lab work. After college, Larry turned down a job offer in radio/tv to accept a job offer from his dad with the rapidly growing Taylor Graphics company.  For years, Larry and Ralph promoted their products each year at national trade shows from New York to California while the staff grew from two to forty associates. Larry became president/CEO at age 31 and has recently returned as director of marketing and special projects.
Lawrence "L.T." Taylor Jr. also grew up around the growing awards business but after college went into Hazmat operations at an airline shipping company, but offered to help out in production for the family business when his grandfather became ill. As this latest generation had grown up with video games & computers, the grandfather and father saw that it was time for another transition to set the future direction. From artists sitting at drafting tables and computer specialists creating the designs on expensive equipment, LT has been quick to adapt the newest computer, laser and sublimation technologies and runs a tight ship. Taylor Made Awards & Promotions remains one of the leading providers of unique custom awards and promotional products. LT became president/CEO at age 28.
Taylor Made Awards and Promotions staff ( dogs included!) have been here for decades providing competitive and creative products and services to make your company or event look like the winner it is!